My parents were married in June, 1943 during World War II, just days after they had both joined the Army in San Francisco. Mom said I had my beginnings in their apartment that looked out on Telegraph Hill and Coit Tower. They probably sat and took in that beautiful view as they discussed what my name should be, or rather my dad no doubt declared what it would be. For his first actual duty post he was sent to Georgia, and Mom soon followed, since you couldn't be pregnant and stay in the army back then. But before she arrived, he was unexpectedly shipped out to North Africa, and then Italy. So Mom returned to LA to stay with her parents. Then when I was born a short time later, and was a girl, Mom had to decide all by herself what to do about my name.
She had already secretly looked at girls' names just in case, and had narrowed her choices down to a few. As soon as I was born, she notified the Red Cross to send a message with a list of her favorite names to my dad, since it was war time and it took several weeks to get a postal letter to a soldier overseas. She had no idea that he was in transit on a ship, and would not get her message for several weeks. And she absolutely never dreamed that he would reply in the way he did.
During WWII it could also take many weeks to get a letter from a soldier by regular surface mail, but they could respond much more quickly by sending it also by V Mail. This was a system by which a letter that was sent through the regular mail was first microfilmed, and the microfilm would then hitch a ride on a military transport plane to New York where there was an Armed Service Post Office (APO). There the microfilm was printed on a small 4x6 paper and then sent by postal mail to the intended address. The original letter also arrived by postal mail, but many weeks later.
Probably for that reason he chose to send Mom his name choice by V Mail. Except that he also sent the EXACT SAME MESSAGE TO EVERY ADDRESS IN HIS ADDRESS BOOK, DOZENS OF THEM! And each hand written, meticulously, one at a time. So Mom had no choice but to give me the name he chose, which was her exact name! Here is a copy of the V MAIL so that you can see what it looked like in case you never saw one before. He did not know my exact birthdate or the correct spelling of Mom's middle name, but imagine the time and effort it took to write out all those announcements by hand, one for each address. We are indeed fortunate these days to have copy machines and printers to do that for us.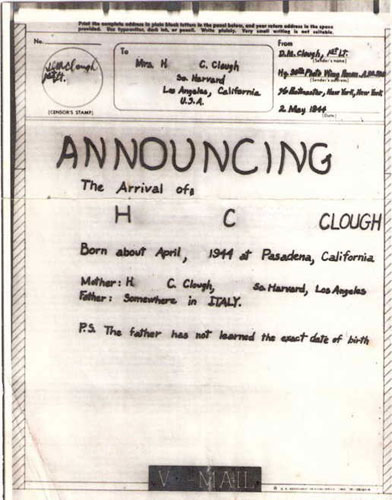 When she received this V Mail she immediately changed my birth certificate from "baby girl Clough" to exactly the same as her name. By the time all this was completed, I was already almost 2 months old. It is just not acceptable to call a tiny baby "hey you" for 2 months, so what to do while waiting for a name to arrive? Her best friend told her the day I was born that I looked like a little angel, so they decided to call me Angel. Of course all babies look angelic, but not all babies go nameless for 2 months. By the time she found out my name, she was used to calling me Angel, and was not thrilled about using either of her own names, so everybody just kept calling me Angel.
My dad finally came home when I was almost 2 years old, and he was insistent that I be called by my middle name, just as he had been called "Monte" by his family for his middle name. Mom honored his request, and dutifully started using my middle name. When we visited my Dad's relatives, who had not seen me before, they felt that it was too long so they shortened it. Still today that is what they call me. But it wasn't long before my dad gave in and began to call me Angel, which remains my name to the rest of the family and friends of the family to this day.